Ok so heres my project its a Xreg 2000 1.7 ford puma 108600 miles full service history from new with all cambelt changes and a wallet full of receipts and old mot's. I will be converting it into a puma cup race car over the next few months. I bought it a couple of days ago its a little rough round the edges(rear wheel arches) but nothing that cannot be sorted. Heres a few pics of the car....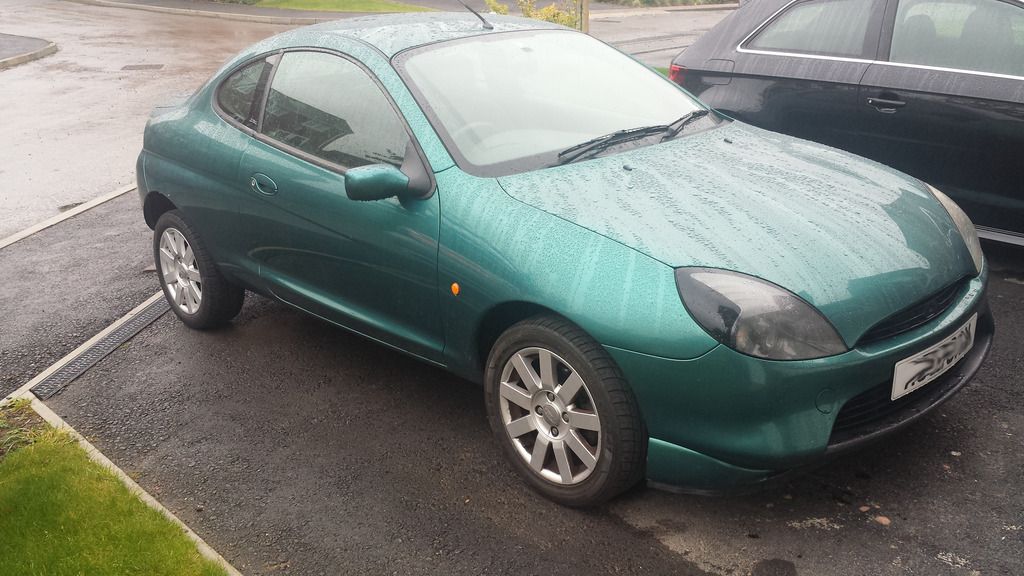 Annoyingly the car has started with a slight knocking yesterday on startup its not too loud and the car sounds fine on revs so Im going to give her a full service with the correct oil first and see if it clears up. If not Ill rebuild it or build another engine for the car.
The car will be going to EMC motorsport in january for a full rollcage fitting and painting inside and out.
Heres the plans for the car.
Painted in Riviera blue or olympic blue
Full Cage
Bucket seat harnesses
Race Wheel
Full GAZ coilover puma cup suspension
Polybushed rear
Superchipped sealed ECU
Fitting of all cut off switches
Battery relocated in FIA battery box to boot.
Puma cup manifold and exhaust
Wheels painted black and dunlop semi slicks fitted.
Possibly other extras such as carbon door cards etc but I will see how much funds allow.
The car came with air con and heated screen so ill be removing the air con and the heater matrix and just running the heated screen. I will also be stripping off the suspension painting the underside with underseal then replacing lower arms etc. progress maybe slow initially but hopefully I can kick it up a notch in the new year. Plans are to have it out testing late next year with a view to doing a few rounds in 2016. This is my first race car project so it will be an experience along the way but I enjoy building things so should be a lot of fun too. The stripping of the interior starts on monday to get her ready for EMC after christmas.
Thanks for reading.
This post has been edited by Pumajonny: 30 March 2015 - 08:18 PM