Here's my Puma that was bought the other week as a project car. I'll keep the updates coming as I get work carried out to bring it back to glory.
First thing I did was to take it's picture.
2001, 1.7, Moondust Silver, 100K on the clock
Secondly, I took the front bumper off to get a better view of some suspected impact damage. Other than a hole in the bumper, the difference in its alignment is hardly
noticeable so I might leave it alone.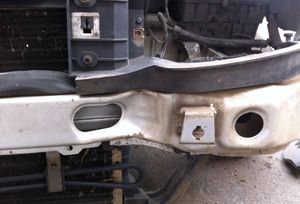 It's a little rough round the edges (especially the arches), but it is a project after all and
there are a few issues straight off to bat...
-The bearings need replacing ASAP (being done Tuesday)
-Spongy brakes (also being sorted Tuesday)
-A rust hole where the VIN number plate in the driver's footwell (hopefully also being sorted Tuesday)
-Damage to front bumper (looks like a run-in with a tow bar). It has pushed the front bar in a tad (
see above pic
)
-A couple of weepy oil leaks (rocker cover, possible cam belt seal and the gasket on the side of the engine under the air filter - don't know what it's called)
I've received a load of service parts - Oil, filters etc and will start fitting them this week.
Also bought two near-mint Peugeot 206 front wings off a local Ebayer for £19 which I
plan to replace rear arches.
I also replaced the rims to what I thought were 15" Thunder alloys, but have since discovered they are actually 15" Fiesta Zetec S ones (
ET43.5
). I think they look the business, but will probably have to replace these for proper Puma ones as I've been told it will affect the handling badly.
Before and after alloys...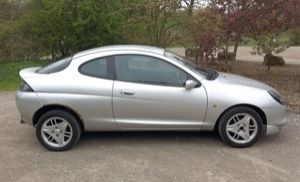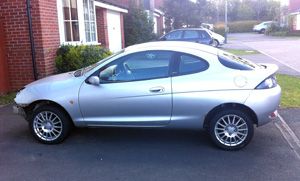 I'll also
upgrade tired cloth interior to leather at some stage.
It might seem a bit of a lemon to some, but I think of it more a blank canvas. Wish me luck...
This post has been edited by showbeastie: 03 May 2015 - 08:18 PM